Want to Build Your Forever Home But You Don't Know Where to Start?
The process of building or remodeling a home can be overwhelming.
You may have questions like…
Who should I get involved with and when, such as hiring an architect, structural engineer, and regulatory agencies?

Can I afford what I want to do?

Can this actually be built?
It's important to build your team upfront, which starts by hiring the right contractor for you and your project.
Whether you're looking for a contractor to help you build your dream home from scratch or remodel your current home to make it your dream home, we can make that happen!
You want a contractor you can have confidence in. Your project is not our first. We've got this. Building, at whatever level, can be a stressful, extremely emotional process for people. We know it's expensive and that we're dealing with your personal checkbook. You're not just a purchase order. We truly care about our clients and their projects. We really want what we're building to be better than you imagined, and we have the tools and processes to make that happen.
"I truly feel like we make a difference for people."
—Chad Robertson
Our family has been building and remodeling Central Coast homes and businesses for over 30 years.
When Bruce Robertson (our Dad) started the business in 1980 he focused on one project and one client at a time. And that meticulous attention to detail is a big part of our company DNA.
My brothers and I grew up in the construction business. All three of us spent our summers working around job sites, learning the craft of a building contractor and–most importantly–learning the importance of a quality job done right.
Dad's business has evolved since the early days. He took on residential remodeling when his custom home clients started referring their friends and neighbors. Commercial tenant improvements followed a few years after that. The crew that builds incredible custom homes (look at our Gallery) is the same crew that works on our residential remodeling and commercial improvement projects.
My brother Dusty and I came on board several years ago, and together we're working to continue the legacy of quality workmanship and personal attention that our clients have learned to expect. We've added the latest building technologies to our 30-plus years of history, so we can continue to deliver the highest levels of service.
We're a family-operated business so you're always just a phone call away from an owner. If material delivery problems, weather or emergencies are going to result in significant delays, we will let you know. If you call us with a concern or question, we'll call you back. If you're out of town, we can send digital photos of our progress, if you like. Our objective is to give you as much information as possible, so you can make informed decisions and feel completely satisfied with the process. Communication – you deserve it, we deliver.
We've been in business on the Central Coast for a long time and our local reputation means everything to us.
My brothers and I grew up here, went to school here and are raising our own families here. That's a great feeling and we are dedicated to continuing our relationship with Central Coast property owners.  Nearly all of our new customers come through referrals and word-of-mouth. People tell their friends about us because of our commitment to Quality, Respect, and Communication. We support local charities and service organizations because we believe in giving back to a community that has been so gracious to our family over the years.
We are passionate about our business and are excited about what the future holds as we continue to improve and evolve. Our goal is simple: We want you to feel like your project is our only project and you are our only client…. just the way Dad started it all those years ago.
We look forward to working with you in the future,
Chad Robertson
Some of the Results We've Helped Our Clients Achieve
Bring us your dreams and we will do
everything we can to make them come true
Step #1
Schedule a meeting to talk about your project, vision, budget, and goals
Step #2
If we're a fit we'll get started on your project and be by your side through every step.
Step #3
When your project is finished, join us for your welcome home celebration!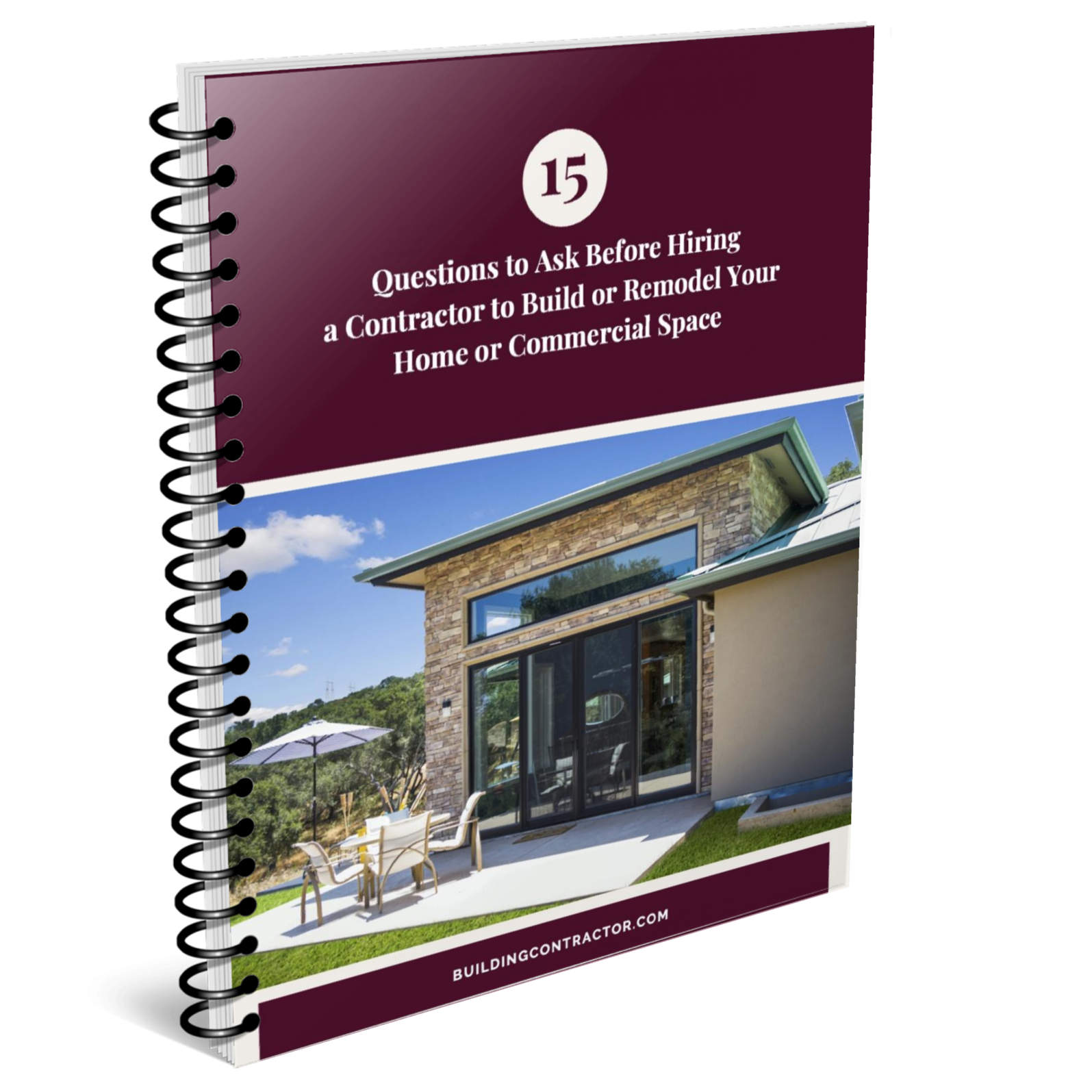 15 Questions to Ask Before Hiring a Contractor to Build or Remodel Your Home or Commercial Space
Download this free guide to learn how to choose the right contractor and see our signature process for building and remodeling projects.